For Reál | The Daily Peel | 1/23/23

Jan 23, 2023 | Peel #383
Happy Monday, apes.
Yes, it sucks that it's Monday morning right now, but at least markets left off on an absolute tear on Friday. Equities broadly rose and basically didn't turn around all day long. At the same time, yields rose with a bit more back and forth movement while the dollar fell as Mr. Market has changed his mind and now expects JPow to kinda chill out a little bit. Stay tuned to see if he's right.
Let's get into it.
Make Money in Real Estate Like the 1%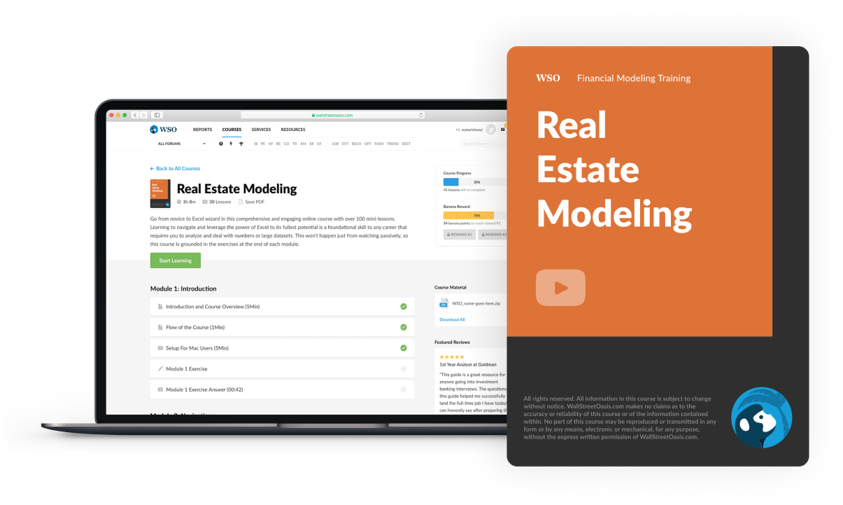 Passive income is all the rage on TikTok these days. This magical stream of money that builds while you sleep, day after day, seems too good to be true.
Passive income can come from a bunch of different places, but real estate might be the king of them all. Returns tend to be stable, and in the right market, can provide equity growth along with checks coming in every month.
Breaking into the industry is the tough part-unless you rub elbows with the 1% of the 1%, you'll need a broad toolkit to prove you have what it takes.
That's where WSO's Real Estate Modeling course comes in. Whether you're looking to manage office buildings or oversee a residential portfolio, we'll teach you the tricks of the trade. Packed video lessons range from the basics of multifamily modeling to the nitty-gritty of GP vs LP equity.
Since we've got a soft spot for Peel readers, we're also giving out free access to our Powerpoint Course for the first 50 Peel readers to sign up for the RE course by the end of the day. Don't let this fall to the bottom of your to-do list, spots are filling up fast.
Sign up today and get in on the greatest wealth building machine of all time.
For Reál
We all know what an incredibly efficient, well-functioning, and freshly oiled machine the EU is. The only one it doesn't always work out for is the people they govern.
Well, what if I told you that a couple of South American nations saw that hot mess and said, "yeah, we'll have what they're having." For Brazil and Argentina, this could soon be their reality.
According to the FT, leadership from the nations of Brazil and Argentina are set to announce plans to launch a joint currency, or "common currency," if you want to sound slightly smarter.
To be clear, this ain't exactly like the EU. The European Union was established "officially" in 1957, but it wasn't even called the EU until 1993. The groundwork for the Union was set in 1952 when 6 nations created the "European Coal and Steel Community" (ECSC). After bumbling around a few iterations over the decades, the lucky people of 27 European nations were blessed with this overlord-ing government.
Now, Brazil and Argentina are chartering what looks like it may be a similar path for South/Latin America. Later this week, they'll announce a game plan to launch a shared currency between the two while inviting other South American nations to participate. Its name? Well, they really got the creative juices flowing so far, with Brazil suggesting the brilliant and original "sur" (south).
The sur will likely take years, potentially decades, to launch. The euro took 35 years before it began thrilling the lives of foreign exchange traders, but given we're only talking about two countries here, we might be able to speed things up.
Launching a joint currency between the two friendly nations has been a floated idea for a while now. But, a little guy named Jair Bolsonaro, former Brazilian President, had a bit of a nationalist bend to him and wasn't exactly down for the idea.
With the re-election of current President Lula, both Argentina and Brazil are under left-leaning control and vibing with the idea a lot harder.
On the one hand, it's a sweet deal for Argentina. Its government has decided to shun basic economics and recently began legitimately just printing money to fund government projects.
And I don't mean like JPow and the Fed printing money in the form of higher bank reserves; I literally mean they just create more dollar bills and hand it over to various government projects. As a result, the country's currency (the Argentine Peso) has been on a tear, putting up nearly 100% inflation last month.
Further, not even Michael Milken would buy Argentina's national debt. Calling it garbage would be a compliment, as the country defaulted in 2020.
Brazil, on the other hand, doesn't have as clear a benefit as Argentina. The motivation appears to be strengthening the economic power of the region as the announcement will conveniently come the same week as a meeting between the 33 countries in the Caribbean as well as South and Central America. Not to mention the fact that Argentine President Alberto Fernandez is beefing with the EU over a recently penned trade agreement between the bloc and the continent.
The interesting part is that just as the world is trending towards de-globalization and borderline nationalism, these nations have decided to team up to kick global trade's a**. It'll help, but maybe not endlessly printing money and actually paying back your debts would help too. Just an idea.
Wayfair ($W) ↑ 20.28% ↑
On Friday, Wayfair's shares were looking way more than fair (no pun intended) as the stock popped over 20% to close.
Similar to Google gaining nearly 6% after announcing more layoffs on Friday, Wayfair got its bounce by cutting off the livelihoods of ~1,750 personnel.
It's the same ol' story of the tech industry of late. Since JPow has made money not completely free anymore, cost cutting is the hot new tech trend du jour.
Silicon Valley Bank ($SIVB) ↑ 16.56% ↑
Much like you to your parents, SVB's latest earnings numbers were a disappointment. Despite that, shares popped off over 16.5% to close out the week. So, I guess maybe there's hope for you too.
But to be fair, SVB actually has a reason to have hope. The innovation bank's shares had tanked 70% since late 2021 until right about now, and with the one bright spot of the firm's earnings being a fat hoard of net interest income (the most important thing for most banks), analysts at other banks have called it the "deal of the century"
Analysts don't tend to be too loose with their words either. So, when Wells Fargo dropped those four little words, buyers went crazy.
Bed, Bath, and Beyond ($BBBY) ↓ 11.61% ↓
Please just imagine me slow, evil laughing before saying all this.
Well, to literally 0 people's surprise, Bed, Bath, and Beyond continues to rip violently in both directions on news as legitimate as astrology. I don't wanna be a hater, but well…
Shares stunk on Friday, losing well over 11% as the firm was hit with the had-to-be-eventual delisting notice from Nasdaq. Because the firm has continued to delay releasing quarterly results for the period ending November 26th, it's officially in violation of the Nasdaq's reporting requirements and will soon have to post earnings or fall to the pink sheets.
There are several tiers of OTC markets once companies become so trash that they have to delist, so it's not like you won't be able to trade its shares anymore. This is America, so if you so choose to lose your money in a trash heap like this, well, dammit, that is your God-given right!
Goldman Sachs ($GS) ↓ 2.54% ↓
Oh man, shoutout to anyone reading this that works at GS…I love making fun of you guys (feel free to bully me).
Anyway, things just keep getting worse for the company, it seems. After announcing a huge scaleback of its entry into consumer banking via the Marcus program, the Federal Reserve has announced that it will give Goldman the dreaded probe into that very consumer banking unit.
No one likes to be probed, especially those of us with a lot of sh*t going on (again, no pun intended). Shares plopped over 2.5% on the news.
The Most Underreported Deal
I don't know if you apes have heard of this thing called "artificial intelligence," but apparently, it's a pretty big deal.
Yeah, ChatGPT is cool and all, but it looks like the real news in the AI industry today is around the pharma/biotech/healthcare industries, and nowhere is this more epitomized than BioNTech's acquisition of AI "decision-making" company InstaDeep.
First of all, I'm pretty sure "BioNTech" is supposed to be pronounced like "Bio-&-Tech," not like "Biontech," as everyone says. Please correct me if someone out there actually knows; I've been staring at this word for long, and it drives me insane.
Anyway, BioNTech is dropping a cool £582mn (that's a British pound sign btw) on the deal, with £382mn coming in upfront and another £200mn in performance-based incentives to InstaDeep shareholders.
It might seem like a pretty random deal to be making a big fuss about, but what this could symbolize for the industry going forward is huge.
Now that narrow AI is developing actual use cases, one of the first industries in which it has decided to play a big role are biotech, pharma, and healthcare. The thing is, AI is already really, really good at pure numerical analysis. So, when it comes to analyzing the mountains of healthcare data at hospitals or statistical results from clinical trials of new drugs, this is exactly the tool you want in your shed.
Here, BioNtech's goal in the acquisition is to speed up the development of new drugs using InstaDeep's AI tools. It's being compared to Google's purchase of DeepMind, but another way to think of it could be like Rockefeller buying out refineries to speed up and gain more control over the oil production process.
Now, I'm not saying this is a Standard Oil or a Google lying in wait, but the vibe of the deal is similar. Not only will this tool allow the firm to speed things up, but it will give BioNTech a data advantage over competitors that lack these capabilities.
See, there is like an asymptotic limit to the "answer" or "result" that any given sufficiently advanced AI will generate. So, the real advantage comes from your dataset. Unique data, like that of healthcare and drug discovery, is a prime example of areas within AI where Microsoft and Google can't automatically come in and just own the space.
It speaks to a trend in both industries more so than just these two companies or this one deal itself. The AI advantage stems from unique datasets and, of course, getting tangible results that can lead to profits faster than otherwise.
The big question: How much of a role will narrow AI play in healthcare and the drug discovery market in the next few years? How will this integration change treatment of disease and the experience for patients?
Friday - If I am holding a bee, what do I have in my eye?
Beauty (beauty is in the eye of the bee-holder).
Today - It's 100 bananas off the WSO's Real Estate Modeling Course for the first 10 respondents. LFG!
You can see me in water, but I never get wet. What am I?
Shoot us your guesses at [email protected] with the subject line "Banana Brain Teaser" or simply click here to reply!
"Stick to the fundamentals. That's how IBM and Hilton were built. Good things, sometimes, take time." - Lou Mannheim (Wall Street, 1987)
Happy Investing, Patrick & The Daily Peel Team
Was this email forwarded to you? Sign up for the WSO Daily Peel here.